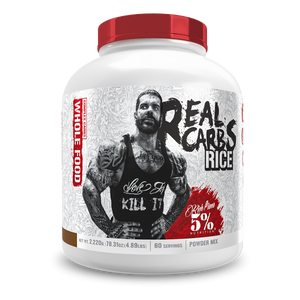 5% Nutrition - Rich Piana Real Carbs Rice, 2220 g, Cocoa Heaven
Regular price £36.49 Sale
Supplements are great. Used correctly, they can make a big contribution to your progress. However, whole food will always come first. Before you worry about supplements, you should make sure you're eating several quality real food meals every day. This was one of the things Rich continually preached. 
Having said that, we understand that making 3-4 meals a day may not work for everyone. If you lead a busy lifestyle, you may find it impossible to make more than a couple of meals a day. Real Carbs Rice Legendary Series is an advanced whole food powdered Carbohydrate supplement created to help you meet your nutritional needs. After all, one of the keys to growth is eating enough calories, right? If you can't make all your meals, you'll fall short of your macronutrient goals. Bottom line, you won't grow. Not to mention, if you're an endurance athlete, you need a quick and easy source of carbs. A Carbohydrate Powder is the ideal solution, and Real Carbs® Rice Legendary Series is the best on the market. 
Real Carbs® Rice Legendary Series is chocolate flavored. Did we say chocolate? Yes, we did, and it's delicious! 
This amazing product contains Rice from RiBan® 300 Rice Bran, plus Tapioca Maltodextrin from TapiOK®. There's also real Oats. This is a low glycemic carb complex that supplies 22 grams of total carbs per serving. There's also 2 grams of sugar and 7 grams of fiber. Real Carbs® Rice Legendary Series can be used throughout the day. Use it by itself or mix it with Shake Time. It's an anytime of the day meal. It's also great as part of a pre or post workout shake.