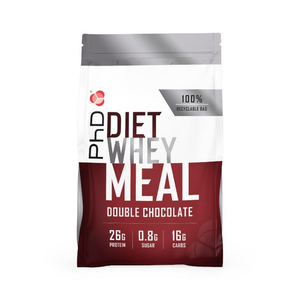 PHD Nutrition Diet Whey Meal replacement bag
Regular price £24.99 £14.99 Sale
PHD Nutrition Diet Whey Meal replacement bag
WHAT IS DIET WHEY MEAL?
Diet Whey Meal is a delicious and balanced meal replacement shake containing a complete blend of vitamins and minerals to support sustainable weight loss.
THE BENEFITS OF DIET WHEY MEAL
Diet Whey Meal combines everything you need from a well-balanced meal in a convenient and delicious shake format. Alongisde an array of vitamins and minerals, Diet Whey Meal delivers 26g of quality protein and 18g of carbohydrates in under 210 calories per serving. In addition, it is a high source of fibre, helping you feel fuller for longer and contains matcha tea & l-carnitine to support any lean muscle and fat loss goals.
WHO IS DIET WHEY MEAL SUITABLE FOR?
Diet Whey Meal is for anybody seeking a nutritious, convenient meal replacement shake that will help support fat loss and weight management.Burn fat and build lean muscle with PhD Diet Whey Meal. Now available in our new 100% recyclable packs.
DIRECTIONS FOR USE
Diet Whey Meal is to be used when you're struggling to consume a solid meal. You may be busy during the day or commuting whilst at work and unable to get your hands on some quality nutrition; Diet Whey Meal is the perfect solution.
NUTRITION STATSDouble Chocolate flavour - Other flavours may vary.Typical Values (when mixed with water)Per 100gPer 55g servingEnergy1602kJ / 380kcal881kJ / 209kcalFat6.5g3.6gOf which saturates1.5g0.8gCarbohydrate29.0g16.0gOf which sugars1.49g0.82gFibre6.8g3.8gProtein48.0g26.0gSalt1.23g0.68gAlso Provides:Vitamin A464ug RE255.2ug RE (32% RI*)Vitamin D11.1ug6.1ug (122% RI*)Vitamin E6.9mg α-TE3.77mg α-TE (31% RI*)Vitamin C46mg25.2mg (31% RI*)Thiamin0.67mg0.37mg (34% RI*)Riboflavin1.1mg0.61mg (44% RI*)Niacin9.1mg NE5.0mg NE (31% RI*)Vitamin B60.80mg0.44mg (31% RI*)Folic Acid110ug61ug (30% RI*)Vitamin B121.40ug0.77ug (31% RI*)Biotin29ug16ug (31% RI*)Pantothenic acid3.5mg1.9mg (32% RI*)Potassium1080mg594mg (30% RI*)Calcium490mg270mg (34% RI*)Phosphorus420mg231mg (33% RI*)Magnesium238mg131mg (35% RI*)Iron9.78mg5.4mg (38% RI*)Zinc5.4mg2.97mg (30% RI*)Copper1mg0.54mg (54% RI*)Manganese1mg0.64mg (32% RI*)Selenium31ug17ug (31% RI*)Iodine90ug50ug (33% RI*)L-Carnitine1000mg550mgDouble Chocolate Flavour: Protein Blend (Milk Protein Concentrate, Whey Protein Concentrate (Milk), Soya Protein Isolate), Wholegrain Oats, Reduced Fat Cocoa Powder, L-Carnitine, Sunflower Oil Powder, Flavourings, Matcha Green Tea, Potassium Citrate, Potassium Dihydrogen Phosphate, Magnesium Oxide Heavy, Vitamin C, Zinc Gluconate, Ferric Pyrophosphate, Vitamin E Acetate, Potassium Iodide, Vitamin B3, Sodium Selenite, Vitamin A Acetate, Vitamin B5, Copper Gluconate, Manganese Sulphate Monohydrate, D-Biotin, Vitamin B12, Vitamin D2, Vitamin B6, Vitamin B1, Vitamin B2, Folic Acid, Sodium Chloride, Stabilisers (Guar Gum, Xanthan Gum), Sweetener (Sucralose).