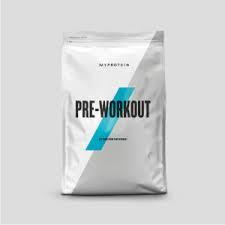 MyProtein - Pre-workout 500g
Regular price £24.99 Sale
Product OverviewNutritional information may vary depending on flavour.
Our powerful pre-workout blend is packed with a whole host of widely researched ingredients — including taurine, beta alanine, essential vitamins, and caffeine to take your training to the next level.
1Our PackagingWe've gone through an exciting redesign, and as we step into a new era, you'll see fresh packaging in your orders. Change is a good thing. But change takes time. Especially when you make change responsibly.Because we don't believe in wasting perfectly good packaging — that would go against our sustainability pledge — you might get a mix of old and new designs inside your orders.
Rest assured, it's still the same consistently high-quality product, just as you'd expect. If you happen to receive classic packaging, know that your order is helping to reduce waste. And if you receive anything with a fresh look, you're one of the first, and we'd love to hear what you think.Thank you for joining us on our journey to reduce our impact on the planet, while maximising our impact for our community.
Key Benefits150mg caffeine per servingIncreases endurance performance and capacity1Improves concentration1 and alertnessVitamin C & niacin reduce tiredness and fatigue2Nutritional information may vary depending on flavour.
Why Choose?
This blend contains caffeine, which helps improve your endurance performance and capacity,1 so you can get the most from every session and push beyond your limits.It'll also help you stay alert and focused during your workout,1 getting you closer to your all-important goals — even after a long day.Plus, it's loaded with essential vitamins, including vitamin C, B6, B12, and niacin, making it a natural energiser2 and support for your immune system3 — keeping you fighting to fit to return to the gym again and again.1. Caffeine contributes to an increase in endurance performance and capacity.
Caffeine helps to improve concentration and increase alertness.
2. Vitamin C and niacin contribute to a reduction in tiredness and fatigue.
3. Vitamin B6, B12 and C contribute to the normal function of the immune system.
4. Protein contributes to the growth and maintenance of muscle mass. ?
Suggested UseWhen to take Pre-Workout Blend?
Coming in four refreshing and fruity flavours, mix up a scoop with water or juice before exercise to kick-start your workout.What does Pre-Workout Blend work well with?Try along with our Essential BCAA 2:1:1, which provides your body with essential amino acids it can't make itself.
They naturally occur in protein and help to build and repair new muscle.4IMPORTANT INFORMATION: Do not exceed the stated recommended daily dose. This product is a food supplement and therefore should not be used as a substitute for a varied diet and a healthy lifestyle.
Store in a cool dry place, out of the reach of young children. Must not be consumed by pregnant, lactating women or children, or for prolonged periods without medical supervision.
E110, E129 may have an adverse effect on activity and attention in children.
What is the Silica Gel Sachet for?
The small silica gel sachet that comes with the Pre-Workout is not for consumption.
We've added this to absorb moisture and water to ensure the powder stays dry and in its best form. The silica gel sachet will not affect the taste or quality of the product but keeps it in an optimal condition.
Warning: Choking hazard. This product contains a silica gel sachet not suitable for human consumption. If the sachet is split or damaged discard product.IngredientsBlue Raspberry Flavour:L-Citrulline Malate, L-Arginine alpha-ketoglutarate, L-Tyrosine, Taurine, Beta Alanine, Betaine, Caffeine, Guarana seed extract (Paullinia cupana L.), Vitamin C (L-ascorbic acid), Niacin (nicotinamide), Vitamin B2 (riboflavin), Vitamin B6 (pyridoxine hydrochloride), Vitamin B1 (thiamin hydrochloride), Vitamin B12 (cyanocobalamin), Flavouring, Acids (Citric Acid, Malic Acid), Sweeteners (Sucralose, Acesulfame K), Colour (E133), Anti-caking agents (Silicon Dioxide, Calcium Silicate).