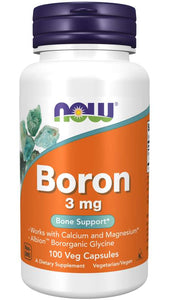 Now Boron, 3mg - 100 caps
Product description
Product Overview
Structural Support
Supports bone strength
Works with Calcium and Magnesium
A Dietary Supplement
Quality GMP Assured
Boron is a biologically active trace mineral which affects calcium, magnesium, and phosphorus metabolism. Boron is known to support bone strength and structure in animals but its significance in humans is less certain.
Suggested Use
As a dietary supplement, take one capsule daily, preferably with meals. Do not exceed one capsule daily except under the guidance of a physician.
Other Ingredients
Rice Flour, Gelatin (capsule) and Stearic Acid (vegetable source).
Contains no sugar, salt, yeast, wheat, gluten, corn, soy, milk, egg, shellfish or preservatives.
Warnings
Store in a cool, dry place.
Supplement Facts Serving Size 1 Capsule Amount Per Serving %DV Boron (from Calcium Borogluconate) 3 mg Daily Value not established.
Ingredients
Boron (from Calcium Borogluconate)3 mg