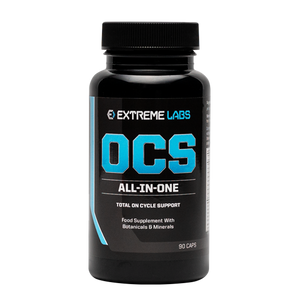 Extreme Labs OCS
Regular price £19.99 Sale
Description
Nutritional Information
Directions
Extreme Labs On Cycle Support (OCS) is the perfect training aid when you're taking any type of Pro Hormone. OSC is an advanced liver support, detoxification and regeneration supplement aimed at anyone using Pro Hormones.
OSC is a All-In-One total on cycle support formula scientifically dosed so you know you're covered when training at your peak. Stacks perfectly with any of the Extreme Labs Pro Hormones.
Serving Size: 1 Capsule
Servings Per Container: 90 
Milk Thistle (80% silymarin 40;1): 1000 mg

N-Acetyl-L-Cysteine (NAC): 500 mg

Hawthorn Berry: 400 mg

Saw Palmetto: 200 mg

Celery Seed Extract: 75 mg

Grape Seed Extract: 75 mg

Bupleurum Root extract: 50 mg

Dandelion Root 4;1: 50 mg
Other Ingredients
Gelatin, Magnesium Stearate, Colour 131 Blue (Capsule Shell)
Take one capsule three times per day with a glass of water. Never exceed 4 capsules within a 24 hour period.