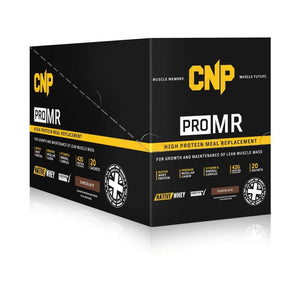 CNP Pro MR - Hi Protein Meal Replacement x 20 sachets
Regular price £39.99 £29.99 Sale
Description
Nutritional Information
Directions
CNP Pro MR is a high quality meal replacement formula that is a high protein low fat meal replacement formula that combines dietary fast and slow proteins for optimum muscle growth and anti-catabolic (muscle sparing) effect.
Probiotic organisms have been included to help maintain and promote a healthier digestive system. Glutamine has been added in its more bio-available peptide bonded form to round off the ideal protein formula. Complex carbohydrates and a balanced vitamin and mineral profile ensure a healthy and effective approach to dietary adjustment.
Serving Size: 1 Sachet (72 g)
Servings Per Container: 20
Energy: 1025 kJ / 243 kcal

Protein: 42 g

Carbohydrates: 10 g

of which Sugars: 2.7 g
of which Fibre: 4.2 g

Total Fat: 2.6 g

of which Saturates: 1.1 g

Salt: 0.8 g

Vitamin (as Beta Carotene): 0.45 mg

Vitamin D: 0.006 mg

Vitamin E: 16.5 mg

Vitamin C: 48 mg

Vitamin B1: 0.91 mg

Vitamin B2: 1.02 mg

Vitamin B6: 1.2 mg

Vitamin B12: 0.003 mg

Niacin: 20 mg

Biotin: 0.18 mg

Pantothenic Acid: 6 mg

Folic Acid : 0.2 mg

Choline: 80 mg

Calcium: 990 mg

Potassium: 979 mg

Phosphorus: 876 mg

Magnesium: 307 mg

Iron: 9.3 mg

Zinc: 10.9 mg

Iodine: 0.06 mg

Selenium: 0.03 mg

Chromium: 0.05 mg

Copper: 1.04 mg

Manganese: 1.0 mg

Molybdenium: 0.06 mg
Ingredients (based on Chocolate flavour)
Protein Blend (milk protein concentrate [micellar casein, whey protein], cultured with bifidus, acidophilus and yoghurt organisms, whey protein from high fraction concentrate (milk), peptide bonded glutamine (Gluten), dried egg white), maltodextrin, cocoa powder, vitamins and minerals (dicalcium phsphate, potassium chloride, dipotassium phosphate, magnesium oxide, tripotassium citrate, salt, trisodium citrate, choline bitartate, vitamin C, vitamin E acetate, beta carotene, iron, fumarate, niacinamide, biotin, zinc oxide, potassium iodate, calcium D pantothenate, sodium selenite, chromium chloride, copper sulphate, manganese sulphate, vitamin B12, vitamin D3, folic acid, sodium molybdate, vitamin B6, vitamin B1, vitamin B2, vitamin K), fructo-oligo-saccharride, flavouring, Fat blend (sunflower oil, medium chain triglycerides), thickeners (cellulose gum, xanthan gum), sweetener (sucralose)
Mix the contents of one sachet with 350 ml - 450 ml of cold water to make a thinner or thicker creamy shake to your requirements. Consume 2 or 3 servings per day for weight control as part of a healthy balanced diet.