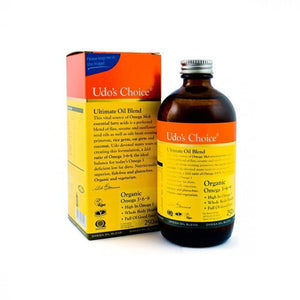 Udos Choice Ultimate Oil Blend 500ml
Regular price £23.99 £19.99 Sale
Description
Nutritional Information
Directions
Udo's Choice Ultimate Oil Blend provides all the Omega 3 & 6 you need in one spoonful. This certified organic blend uses pure, fresh flax, sesame and sunflower seeds blended with oils from evening primrose, rice germ, oat germ and coconut in the ideal 2:1 ratio of Omega 3 to 6. Udo's Choice Oil is a convenient way to top up your Omega's daily.
All our cells need protein, water, vitamins, minerals and essential fatty acids (EFAs) omega 3 and 6 to operate at their best. Udo Erasmus highlights the lack of EFAs as one of today's most important challenges to human health.
The body cannot produce EFAs, so we must get them from our food. However, our diets tend not to provide the right quantity or balance of essential fats required by the body.
Most of the Omega Oils we obtain from our diets are damaged by food processing or by exposure to heat, light or oxygen, all of which degrade the nutritional value of Omega 3 and 6. Ultimate Oil Blend provides a premium natural source of unprocessed, undamaged Omega 3 and 6 in a ratio that supports optimum health.
Container Size: 250 ml
Serving Size: 2 Tbsp (30 ml)
Servings Per Container: 8
Container Size: 500 ml
Serving Size: 2 Tbsp (30 ml)
Servings Per Container: 16
Energy: 263 kcal / 1079.9 kj

Fat: 29 g

of which Saturates: 3.7 g
of which Monounsaturates: 5.9 g
of which Polyunsaturates: 19.4 g

Carbohydrate: 0 g

Fibre: 0 g

Protein: 0.4 g

Salt: 0 g

Omega-3 (Alpha Linoleic Acid): 13.5 g

Omega-6 (Linoleic Acid): 5.8 g
Other Ingredients
Seed Oil Blend (Flax Oil, Sunflower Oil, Sesame Oil) (96.78%), Virgin Coconut Oil (1.7%), Evening Primrose Oil (1%), Soya Lecithin (0.3%), Rice Bran Oil (0.2%), Oat Bran Oil (0.01%), Mixed Tocopherols (0.004%).
Pour around 1-2 tablespoons of this nutritious oil on your food - ideally spread throughout the day.
For Example:
Mix in with prepared pastaDrizzle over steamed or roasted vegetables.
Stir into a fruit juice drink or tomato juice.
Pour into porridge and cereals.
Blend in with your favourite smoothie.
Make your own mayonnaise and salad dressings.
Enjoy with yoghurt.
Add to dips and spreads.
Avoid cooking or frying as this damages the delicate structure of the oils, and greatly reduces their nutritional benefits.