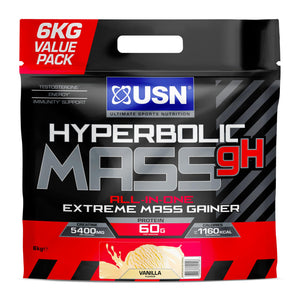 USN HyperBolic Mass 6kg
Regular price £54.99 Sale
Description
Nutritional Information
Directions
USN Hyperbolic Mass is scientifically designed to act as a muscle building catalyst. For individuals with a fast metabolism, gaining muscle size and strength can be a tricky task, this is why Hyperbolic Mass boost your calorific intake with the right nutrients to assist your training goals.
Hyperbolic Mass has been scientifically formulated to offer those with fast metabolisms a fantastic source of quality carbohydrates, which provides a high level of energy which can prevent the breakdown of muscle tissue.
Container Size: 6000 g
Serving Size: 6 Scoops (300 g)
Servings Per Container: 20
Energy: 1190 kcal / 5031 kj

Fat: 17 g

Carbohydrate: 182 g

Protein: 63 g

Salt: 1.47 g

Vitamin A: 400 µg

Vitamin D: 2.5 µg

Vitamin E: 6 mg

Vitamin K: 38 µg

Vitamin C: 80 mg

Thiamin: 0.55 mg

Riboflavin: 0.7 mg

Niacin: 8 mg

Vitamin B6: 0.7 mg

Folic Acid: 100 µg

Vitamin B12: 1.3 µg

Biotin: 25 µg

Calcium: 1310 mg

Iron: 14 mg

Zinc: 5 mg

Glutamine: 16 g

Intrinsic BCAAs: 16 g

Creatine: 5.4 g
Other Ingredients (based on Chocolate flavour)
Maltodextrin, Skimmed Milk Powder, Whey Protein Concentrate (Milk), Dextrose Monohydrate, Coconut Oil Powder, Cocoa Powder, Fructose, L-Glycine, Flavouring, Creatine Monohydrate, L-Glutamine Monohydrate, Taurine, Whey Protein Isolate (Milk), Sodium Chloride, Stabiliser (Xanthan Gum), Vitamin Blend (Ascorbic Acid, Ferrous Fumarate, DL-Alpha Tocopherol, Nicotinamide, Vitamin A Acetate Oil, Calcium Pantothenate, Ergocalcerol, Pyridoxine Hydrochloride, Phylloquinone, Thiamin Hydrochloride, Riboflavin, Cyanocobalamin, Folic Acid, D-Biotin), Sweetener (Sucralose), Tolerase L (pH-Stable Lactase), Avena Sativa (Oats), Zinc Citrate, Emulsifier (Soya Lecithin)
For a 300g serving mix six scoops in 900 ml of cold water in your shaker/blender.
Split one 300g serving into two shakers where necessary.
Take 1-2 servings daily, as a post-training drink and/or a snack between meals.