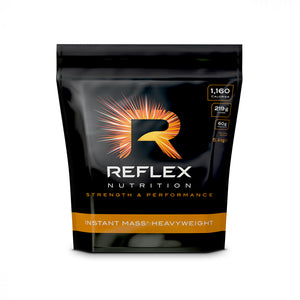 Reflex Instant Mass Heavyweight 5.4kg
Regular price £39.95 Sale
Description
Nutritional Information
Reflex Instant Mass® Heavyweight is a protein shake designed specifically for hardgainers and athletes wanting a very high quality source of protein and complex carbohydrates.
Each serving provides a huge protein, carbs, and calories. In order to provide such a huge dose of protein, we've created the Quattro® protein blend, which is four of the best types of whey protein together with our slow-releasing protein Micellar Casein.
Instant Mass® Heavyweight delivers a blend of complex carbohydrates to provide your body with a serious source of fuel without simply adding sugars, corn syrups, or fructose. It also contains 18 added vitamins and minerals to support your physical goals before, during and after training.
What are the benefits?
Contributes to the growth of muscle mass
Combines four of the best protein sources
Contains creatine
Whey protein from grass-fed cows

 

It also contains the following vitamins and minerals, which all have their own individual benefits:

Vitamin B12 which contributes to the reduction of tiredness and fatigue
Vitamin B6 which contributes to the normal function of the immune system
Vitamin C which contributes to the normal function of the immune system during and after intense exercise
Iron which contributes to normal formation of red blood cells and haemoglobin
Zinc which contributes to normal carbohydrate metabolism
Copper which contributes to the maintenance of normal connective tissue
Chromium which contributes to the maintenance of normal blood glucose levels
Recommended Usage
Mix 300g (approximately two level 250ml measures (there is a scoop included in the tub) with 700ml water in a shaker or blender. Consume one to two shakes a day.
When just starting with this product, you may find it beneficial to begin with half the quantity before slowly increasing to the full serving in order to make it fit into your personal calorie plan.
Consume Instant Mass® Heavyweight between meals to maintain a positive nitrogen balance, and drink 20-30 minutes after a workout for optimal results. Alternatively, take Instant Mass® Heavyweight 45-60 minutes before bed to contribute to muscle maintenance overnight.
Once mixed, consume the shake immediately and don't leave to stand. For a shake that is more calorie-heavy and creamier, try the product with semi-skimmed milk.
This is a food supplement and should be used in conjunction with a balanced diet.
This product is not suitable for those under 18.
Serving Size: 2 Scoops (300 g)
Servings Per Container: 18
Energy: 4921 kJ / 1160 kcal

Fat: 4.8 g

of which Saturates: 1.8 g
of which Polyunsaturates: 1.7 g
of which Mono-unsaturates: 1.1 g

Carbohydrate: 219 g

Fibre: less than 0.5 g

Protein: 60 g

Salt: 0.69 g

Vitamin A: 400 μg RE

Vitamin D: 7.5 μg

Vitamin C: 100 mg

Thiamin: 1.6 mg

Riboflavin: 1.6 mg

Niacin: 9 mg NE

Vitamin B6: 1.6 mg

Folic Acid: 100 μg

Vtamin B12: 1.2 μg

Biotin: 80 μg

Pantothenic Acid: 3 mg

Magnesium: 150 mg

Iron: 2.3 mg

Zinc: 7.5 mg

Copper: 810 μg

Selenium: 27 μg

Chromium: 50 μg

Piperine Extract (Bioperine): 5 mg

Tocotrienols (DeltaGold): 7.5 mg

L-Choline: 100 mg

Glutamine: 1000 mg

Creatine Monohydrate: 3000 mg

Bacillus Coagulans (Lactospore): 500,000,000 spores
Other Ingredients
CarboBiotics (Maltodextrin, Oat Flour, Trehalose), High BV Protein Blend (Whey Protein Concentrate (Milk), Milk Protein Concentrate, Egg White Protein Isolate, Hydrolysed Whey Proteins (Milk)), Peptide Bonded Glutamine (Wheat), Creatine Monohydrate, Cocoa Powder (Chocolate varieties only), Flavourings, Colour (Betanin (Strawberries & Cream Variety only)), L-Glutamine, Magnesium Bisglycinate, Potassium Chloride (Choc-Peanut Butter variety only), L-Choline Bitartrate, Sweetener (Acesulfame K), L-Ascorbic Acid, Bacillus Coagulans (LactoSpore), Emulsifier (Soya Lecithin), Sweetener (Sucralose), Zinc Bisglycinate, Tocotrienol-Rich Annatto Seed Extract (DeltaGold), Iron Bisglycinate, Nicotinamide, Copper Bisglycinate, Selenomethionine (SeleniumSELECT), Piperine Extract (Bioperine), Retinyl Acetate, D-Calcium Pantothenate, Cholecalciferol, Riboflavin, Thiamin Hydrochloride, Pyridoxine Hydrochloride, Colour (Beta Carotene (Vanilla Ice Cream variety only)), Chromium Picolinate, Pteroylmonoglutamic Acid, D-Biotin, Methylcobalamin, Anit-Caking Agent (Calcium Silicate)