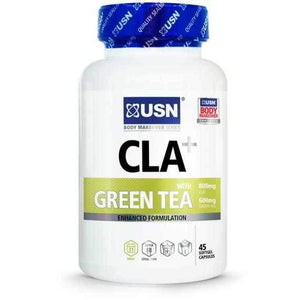 USN CLA Green Tea, 90 Soft Gel Capsules
Regular price £14.99 £9.99 Sale
USN CLA Green Tea is our cutting-edge formulation of CLA that can be a fantastic addition to your weight loss goals when taken as part of a restricted diet! Each serving provides strong doses of CLA, polyphenols, vitamin E and green tea which acts a potent antioxidant. Support your immune system and keep yourself healthy with our CLA Green Tea!
Packed with CLA, polyphenols, vitamin E
Immune system support
600mg green tea per serving
THE SCIENCE
The potential beneficial effects of Conjugated Linoleic Acid (CLA) on human health have been widely investigated and proven effective in weight management. Several studies have demonstrated that CLA can positively affect body mass and has a beneficial effect on lean muscle mass.
Take 2 capsules daily with food, or as your health practitioner advises. Do not exceed the recommended daily intake.
Conjugated Linoleic Acid [CLA 80% Ethyl ester; Carrier [Soybean oil (Soya)], Thickener (Beeswax), Emulsifier (Soya lecithin)], Capsule shell (Gelatine, Glycerol, Sorbitol, Brown iron oxide), Green Tea extract, Dl-alpha tocopheryl acetate