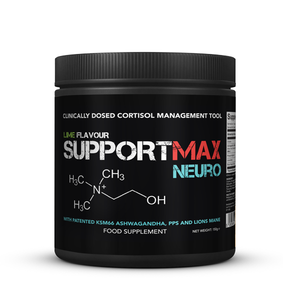 Strom Sports SupportMAX NEURO
Regular price £31.99 Sale
Description
Nutritional Information
Directions
Strom Sports SupportMax Neuro is their advanced adaptogenic blend to support cortisol management and a controlled state of mind and its called SupportMax Neuro!
For both the hard working and the hard training individual to support optimal cognitive and emotional functioning. 
Serving Size: 1 Scoop (5g)
Servings Per Container: 30
Choline: 1000mg
KSM-66 Ashwagandha: 800mg
Phosphatidylserine: 500mg
Lions Mane: 500mg
Bioperine: 10mg
Other Ingredients
Citric acid, Sweetner (Sucralose), Mango Flavouring, Tartazine Lake Colouring, Silica
Use for the gym goer 
One (1) serving an hour or so after your workout - this may or may not be pre-bed depending on your training routine. One (1) additional serving may be consumed at times of stress or combined with a moderate dose of caffeine if a boost in productivity is required!
Use for show prep 
One (1) serving am and one (1) serving post-workout or before bed as desired
Use for general cognitive support 
One (1) serving daily on waking or before bed - the effects will become apparent over time which ever time you choose to use it - some people feel ksm66 makes them tired - if you find this them pm dosing will be optimal for you