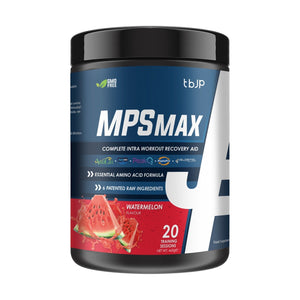 Trained By JP MPS Max 20 serving
Regular price £39.99 Sale
MPS Max returns! 

The markets best intra/peri workout amino acid formula is not only back in the tbJP range BUT it is new and improved! 
This time we have combined PeptoPro and Hydrolysed Whey to provide whole proteins. This is essential for optimising MPS (muscle protein synthesis) 
To vastly increase their efficiency, Velosotil has been added into the mix, which works to further boost the complete proteins ability to raise MPS.
We have used essential free form amino acids in the formula to accompany the whole proteins. This increases the BCAA content considerably, specifically leucine, which is a rate limiting amino for MPS. Having this present at the doses we use, makes MPS Max unparalleled in its effectiveness.
We have used the extremely potent Peak 02 to help aid overall performance and recovery, as well as pharmacy grade electrolytes in the form of Aquamin.

If you take training seriously, we believe that MPS Mas will play an intergral role in accelerating your progress.