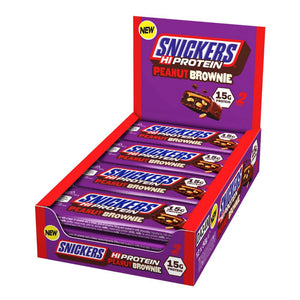 Snickers Hi Protein Brownie Bar 12x50g - Best Before Date: 27/04/2023
Regular price £18.99 Sale
Snickers Hi Protein Brownie Bar 12x50g
SNICKERS HI PROTEIN PEANUT BROWNIE
Nuts. Chocolate. Caramel. Brownie. Protein. Need we say more?NEW SNICKERS Peanut Brownie Hi Protein bar features a delicious chewy peanut brownie filling, topped with a delectable layer of that SNICKERS caramel, and coated in real milk chocolate! With 15g of protein and 211 calories, each bar is made up of two peanut brownie squares, making it easy to share the satisfaction? If you choose to that is!
Container Size: Serving Size: 50g Amount Per Serving: Protein: 15g Carbohydrates: 18g Fat: 9.2g Salt: 0.2g Ingredients: milk chocolate (22%) (sugar, cocoa butter, skimmed?milk?powder, cocoa mass, palm fat,?lactose (milk), sweet?whey?powder(milk),?milk?fat,?whey?protein (milk), emulsifier (soya?lecithin), natural vanilla flavouring), caramel layer (14%) (glucose syrup, sugar, condensed?milk, invert sugar syrup, cocoa butter, humectant glycerol, emulsifier (mono- and diglycerides of fatty acids), natural flavouring, salt, colour plain caramel),?milk?protein, collagen hydrolysate, roasted peanuts (9.9%) (peanuts), humectant (glycerol), palm fat,?soya?protein, oligofructose, glucose syrup, fat-reduced cocoa powder (1.4%), flavouring, natural flavouring, colour (plain caramel).
Please Note: Nutritional facts and ingredients may vary slightly between flavours.