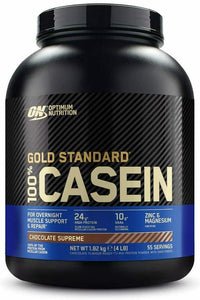 Optimum Nutrition Gold Standard Casein 1816g
Regular price £59.99 Sale
Description
Nutritional Information
Directions
Gold Standard 100% Casein™ is a slow digesting protein that supports muscle growth and repair while you sleep. Each serving is packed with 24g of protein which provides a prolonged supply of amino acids overnight.
Slowly digested casein for round the clock protein coverage
Slower-Digesting Protein Powder
Protein Supports Muscle Growth and Maintenance
24 g of Pure Micellar Casein but just 0.5 g of fat and no added sugars
Enjoy before bed to support muscle growth while you rest
Micellar casein protein powder with sweeteners.
Directions
Mix 1 rounded scoop in 300-360 ml of cold water.
Container Size: 908 g
Serving Size: 1 Scoop (33 g)
Servings Per Container: 28
Container Size: 1818 g
Serving Size: 1 Scoop (33 g)
Servings Per Container: 55
Energy: 116 kcal

Protein: 23.8 g

Total Carbohydrates: 3.6 g

of which Sugars: 1.6 g
of which Fibre: 1 g

Fat: 0.7 g

of which Saturated: 0.3 g

Sodium: 242 mg

Salt: 0.605 g

Essential Amino Acids (EAAs):

Tryptophan: 292 mg
Valine: 1609 mg
Threonine: 1039 mg
Isoleucine: 1312 mg
Leucine: 2129 mg
Lysine: 1822 mg
Phenylalanine: 1144 mg
Methionine: 644 mg

Conditionally Essential Amino Acids (CAAs):

Arginine: 866 mg
Cystine: 79 mg
Tyrosine: 846 mg
Histidine: 688 mg
Proline: 2421 mg
Glutamine & Precursors: 4950 mg

Nonessential Amino Acids (NAAs):

Aspartic Acid: 1589 mg
Serine: 1396 mg
Glycine: 510 mg
Alanine: 664 mg
Other Ingredients
Micellar Casein [contains Emulsifier (Soya Lecithin)], Flavour, Salt, Thickeners (Cellulose Gum, Carageenan Gum, Guar Gum), Masking Agent (contains Dextrin, Flavourings), Sweetener (Sucralose, Acesulfame Potassium), Colour (Curcumin), Enzyme Complex (Amylase, Protease, Cellulase, Beta-D-Galactosidase, Lipase)
Using a shaker cup is the easiest and most convenient way to mix up a consistently great casein shake every time. Just add one heaping scoop of Gold Standard 100% Casein to a shaker cup filled with 300-350 ml of your preferred beverage. Cover and shake for 25-30 seconds.