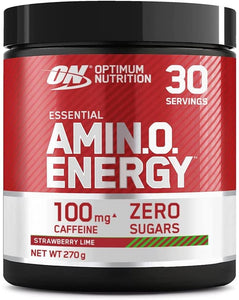 Optimum Nutrition Amino Energy 270G - New
Regular price £19.99 Sale
Optimum Nutrition Amino Energy 270G
Everybody wants a lean, muscular physique. Like anything worth having, wanting it isn't enough. You have to commit to a rigorous diet and training program that will tax your strength mentally as well as physically. To help you satisfy both of these demands, ON's Essential Amino Energy combines the optimal ratio of rapidly absorbed free-form amino acids with natural energizers and N.O. boosting ingredients to help you reach your next level - including muscle-building BCAAs and arginine for more intense, vascular pumps. At 10 calories per serving, it'll make a big impression without denting your diet.
Mix up Essential Amino Energy anytime you want to dial up mental focus, physical energy N.O. production and recovery support. Amino Energy 3x90g Fruit Fusion/Cola/PineappleContainer Size: 3 x 90g Serving Size: 2 Scoops (9g) Servings Per Container: 30 Container Size: 90g Serving Size: 2 Scoops (9g) Servings Per Container: 10 Container Size: 270g Serving Size: 2 Scoops (9g)
Servings Per Container: 30 Amount Per Serving: Calories: 10 Total Carbohydrate: 2g Amino Blend: (5g) Micronized Taurine, Micronized L-Glutamine, Micronized L-Arginine, Micronized L-Leucine, CarnoSyn Beta-Alanine, Micronized Citrulline, Micronized L-Isoleucine, Micronized L-Valine, Micronized L-Tyrosine, Micronized L-Histidine, Micronized L-Lysine, Micronized L-Phenylalanine, Micronized L-Threonine, Micronized L-Methionine Energy Blend: (160mg) Caffeine (From Green Tea), Green Tea Extract (Camellia Sinensis)(Leaf)(Standardized For EGCG), Green Coffee Extract. Other Ingredients: Malic Acid, Natural & Artificial Flavours, Tartaric Acid, Silicon Dioxide, Calcium Silicate, Citric Acid, Sucralose, Gum Blend (Cellulose Gum, Xanthan Gum, Carrageenan), Lecithin, FD&C Blue #2, FD&C Red #40, Inulin.