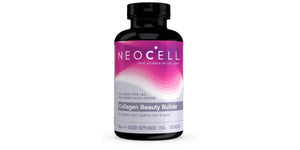 NeoCell Beauty Builder 150 Tablets
Regular price £24.99 Sale
Description
True Science of Collagen
Collagen Type 1 & 3
Hyaluronic Acid + Biotin
For Radiant Skin, Healthy Hair & Nails
3 g Collagen
Dietary Supplement
Grass-Fed
Gluten-Free
Igen Non-GMO Tested
Boost your inner beauty. Collagen Beauty Builder nourishes your body with healthy nutrients that support your radiant beauty from the inside out.
As we age, the collagen in our bodies begins to decline. Our hydrolyzed collagen activates your inner beauty by supporting healthy skin, hair and nails. We've also added hyaluronic acid to support skin hydration and promote elasticity. Let your beauty radiate from the inside out.
Suggested Use
With just three (3) tablets, you can nourish your body and boost your beauty.
Other Ingredients
Microcrystalline cellulose, vegetable magnesium stearate and silicon dioxide.
Contains No: 
Soy, wheat, lactose or artificial flavors. Gluten-free.
May Contain: 
Trace amounts of naturally occurring sulfite residue.
This product does not contain common GE genes or proteins.
Warnings
Store in  a cool, dry place,
Keep out of reach of children.
As with any supplement, if you are pregnant, nursing or have a medical condition, consult your doctor before using this product.
Notice: 
Use this product as a food supplement only. Do not use for weight reduction.