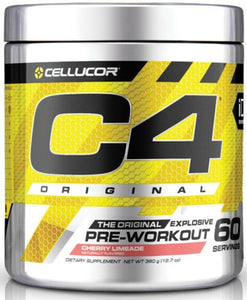 Cellucor C4 Pre Workout Original iD Series 30-servings -195g
Regular price £24.99 £19.99 Sale
Cellucor C4 Pre Workout Original iD Series 
30 or 60 servings energy focus & pumpExplosive energy, heightened focus and an overwhelming urge to tackle any challenge...that's the C4 experience. Millions of people­—ranging from beginners all the way up to the elite competitors, have relied on C4 to help them turn their ambitions into achievements. As America's #1 selling pre-workout, C4 Original lives up to its solid reputation with a classic formula for advanced energy, endurance, focus and pumps! But with a new bottle design and more delicious flavor options for you to choose from, you'll feel like it's your very first time experiencing the C4 you know and love.
 Whether you're just starting a fitness journey or you're striving to reach that next level, C4 Original will help you unlock your full potential.Contains CarnoSyn® Beta Alanine, an amino acid, which converts to a compound in your body called carnosine. It is the only patented and clinically studied form of beta-alanine that has been shown to support muscular endurance.
  Key Elements:1.6g CarnoSyn ® Beta- Alanine1g Creatine Nitrate (NO3-T ®)150mg Caffeine1g Arginine AKG Ingredients: Cellucor - C4 Original iD Series Explosive Pre-Workout 30 Servings Orange Burst - 180 Grams (6.3 oz.) Supplement Facts Serving Size: 1 scoop (6g) Servings Per Container: 30                                                                                       
  Amount Per Serv % DV Vitamin C (as Ascorbic Acid) 250 mg 417% Niacin (as Niacinamide) 30 mg 150% Vitamin B6 (as Pyridoxal-5-Phosphate) 500 mcg 25% Folic Acid 250 mcg 62% Vitamin B12 (as Methylcobalamin) 35 mcg 583% CarnoSyn Beta-Alanine 1.6 g † Creatine Nitrate (NO3-T) 1 g † Arginine Alpha Ketoglutarate 1 g † Explosive Energy Blend 425 mg †    N-Acetyl-L-Tyrosine, Caffeine Anhydrous (150mg), Velvet    Bean (Mucuna pruriens) seed extract (standardized for    L-Dopa), Theacrine (as TeaCrine) † Daily Value not established.   Other Ingredients:   Citric Acid, Natural & Artificial Flavors, Silicon Dioxide, Sucralose, Beta Carotene, Acesulfame Potassium.
  Suggested Use:  DO NOT EXCEED RECOMMENDED DAILY INTAKE. USE ONLY AS DIRECTED. Take one serving (1 scoop) Cellucor C4, mixed with 4-6 fl. oz. of water 20-30 minutes before training. Once tolerance has been assessed and you are looking for an additional boost of energy, take one additional serving (1 scoop) with serving taken before training.
 DO NOT EXCEED 2 SCOOPS PER DAY. During your workout, it is recommended that you drink plenty of water or performance beverage such as Cellucor Alpha Amino to stay hydrated. Some individuals may experience a harmless tingling sensation, which is attributed to beta alanine.