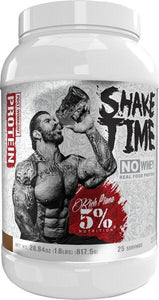 5% Nutrition Shake Time - Rich Piana's Protein Powder with real food
Regular price £34.99 Sale
5% Nutrition Shake Time
Shake Time is a protein powder designed to live up to the high standards of the Man himself, Rich Piana. Use it post-workout, first thing in the morning, or anytime you need protein.
Make no mistake, this isn't just another protein powder. This is a unique, real-food based, Rich Piana-style protein powder. Rich Piana was not the type of guy that bought into the whole protein powder thing. He believed that your protein sources should come from real food first and foremost. Having said that, we understand that you can't always sit down to a real food high protein meal. Sometimes, the only thing that works is a protein shake, especially if you lead a busy lifestyle. Not to mention you want a fast-digesting protein source when you wake up in the morning and after you've worked out. Let's face it, there's no better way to get in some protein quickly than a shake.
Leave it to Rich Piana 5% Nutrition to come up with the type of real food based protein powder Rich would be proud of!
Shake Time Ingredients
We divide this section into "Protein Sources" and "Other Ingredients," the latter of which refers to ingredients that add flavor and improve texture, consistency, and mixability.
Protein Sources

Shake Time uses three whole-food-based protein sources to deliver 25 grams of protein per serving: hydrolyzed beef protein isolate, chicken protein, and whole egg protein. In sports nutrition supplements, it's required that ingredients are listed in descending order. So based on the label, hydrolyzed beef protein isolate is the primary protein source in Shake Time, although they could be equally dosed.

Leading Shake Time is the trademarked ingredient HydroBEEF, a hydrolyzed beef protein isolate by Essentia Protein Solutions, a company in Sweden that produces animal protein products. HydroBEEF is a natural protein ingredient rich in essential amino acids and collagen. It also contains at least 96% protein by weight, which is why Shake Time only has 2.5 grams of fat per serving.[1]

Other benefits of HydroBEEF include:

Non-GMO
Gluten-free
Dairy-free
Soy-free
Low fat
Zero sugar
Free of additives and preservatives
Easily digestible
Readily absorbed[1,2]

Overall, hydrolyzed beef protein isolate is an excellent source of protein that contains all nine essential amino acids in similar ratios to those found in human skeletal muscle.[2]Moreover, beef protein isolate contains higher amounts of glycine and proline than other protein sources, which may help promote joint health.[2] A beef protein isolate sports nutrition powder is partially hydrolyzed.

So it's different than eating a steak because the powder has greater bioavailability and faster absorption.[1,2] The other protein sources in Shake Time, chicken protein, and whole egg protein, complement the hydrolyzed beef protein isolate by offering slightly different digestion rates and leucine-rich amino acid profiles. Overall, 5% Nutrition's goal with Shake Time is to offer a sugar-free, whole-food-based protein powder with minimal carbohydrates and fats.