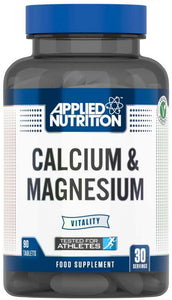 Applied Nutrition calcium and magnesium 90 tablets - HALF PRICE SAVE £5.00
Applied calcium and magnesium
Calcium & Magnesium Tablets 90 TABLETS | 90G | 30 SERVINGS For the maintenance of healthy bones and normal nerve and muscle function, Calcium & Magnesium tablets are one of Applied Nutrition's premium quality mineral complexes.
KEY BENEFITS Gluten-Free & Suitable for Both Vegans & Vegetarians Per 3 Tablets Contain 100% RI's for Calcium & Magnesium Halal Certified Product Well Suited for Consumers with Dietary, Religious, or Cultural Restrictions SUGGESTED USE Take 1 serving daily with food.
CAUTION Check with a qualified health professional before using this product if you are under the age of 18, pregnant or nursing a baby, or if you have any known or suspected medical condition(s) and or are taking any prescription or OTC medication(s). Not to be used as a substitute for a varied diet and healthy lifestyle. Store this product in a cool dry place, away from children. Do not exceed the suggested use. For allergens see ingredients in Bold.
TESTED FOR ATHLETES Every batch of this product is tested for banned substances under a monitored programme. Products undergo rigorous testing at an ISO 17025 accredited lab to provide the highest level of assurance that they are safer for athletes to use.
GMP This product was manufactured in a GMP facility under strict quality control to assure consistent high quality that meets the requirements of the marketing authorization (MA) or product specification.