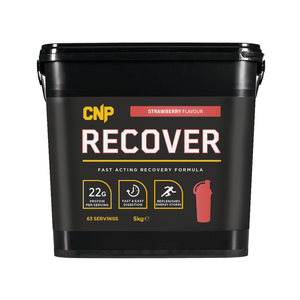 CNP Recover 5KG - Post recovery shake & Vitamins
Regular price £66.99 £59.99 Sale
CNP Recover post work out drink contains a blend of high glycemic (fast acting carbohydrates) and fast acting proteins in the form of hydrolysed whey and whey isolate providing a high concentration of Branched Chain Amino Acids (BCAAs) that aid muscle repair and growth.
Pro-Recover post work out drink also contains antioxidants that also help to limit muscle damage caused by intense exercise. Pro-Recover post work out drink is ideal to take after most forms of exercise and sports, (weight training, track and field, power-lifting, strongman, boxing, football, rugby etc).
Consume Pro-Recover immediately after a workout or any form of intense exercise to assist optimum recovery. Place 2 scoops in a shaker bottle, simply add 400 - 500ml water for the perfect post workout drink. Pro-Recover contains: Glucose - Glucose elevates the blood sugar levels very quickly, which causes the pancreas to release the hormone insulin.
Insulin's function is to regulate the blood sugar levels by removing the high sugar and Pro-Recovers fast acting protein's. These are taken out of the blood (with the sugar) and are delivered to the muscles where they are required. Hydrolysed Whey - The most digestible whey protein (hydrolysed), which is partially pre-digested for better absorption allowing the body to use it's complete range of amino acids for faster absorption and recovery. Whey Isolate - A higher percentage form of protein (over 90%).
Hydroylsed and Isolate whey are both fast acting proteins which means they are absorbed very quickly which is ideal for post workout meals. Vitamin C (Ascorbic Acid) - One of the functions is that being a powerful natural Antioxidant. This means, it helps the body rid itself of harmful cell damaging 'Free Radicals' that arise from intense forms of exercise. Vitamin E (Tocopherol) - Vitamin E works best with Vitamin C and has powerful natural Antioxidant properties assisting the body to rid itself of harmful cell damaging 'Free Radicals' that arise from intense forms of exercise.
It also maintains a healthy blood supply enabling the body to distribute nutrients (proteins) to the damaged muscles for fast recovery.Container Size: 1280g Serving Size: 2 scoops (80g) Servings Per Container: 16 Container Size: 5000g Serving Size: 2 scoops (80g) Servings Per Container: 63 Amount Per Serving: Total Calories: 297 Protein: 23.58g Total Carbohydrates: 48.45g -Sugars: 48.45g -Dietary Fiber: 0g Fat: 1.05g -Saturates: 0.83g Sodium: Trace Vitamin C: 250MG Vitamin E: 10MG Ingredients: Glucose, Sucrose, hydrolysed whey, whey protein isolate, cocoa powder, chocolate flavour, vitamin C, xantham gum, vitamin E. Contains no artificial sweeteners Please Note: Nutritional facts and ingredients may vary slightly between flavours