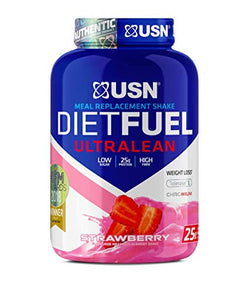 USN Diet Fuel UltraLean 2kg
Regular price £44.99 £38.95 Sale
Description
Nutritional Information
Directions
USN Diet Fuel Ultralean is a Tasty, Low-GI meal replacement shake formulated with whey protein and other researched ingredients to promote reduction of body fat. Providing you with protein shakes to supplement yuor meals throughout the day.
This can in turn help you to not only maintain a diet that's balanced but improve on what you currently eat on a daily basis and ensure that you are getting great quality and essential nutrients into your body.
The Diet Fuel Ultralean is suitable for any fitness enthusiast that has weight loss goals. With these goals, you must combine your hard-work in the gym with a balanced diet. For this reason we've provided a healthy meal replacement shake containing the nutrients you need to combine with your goals.
Container Size: 2000 g
Serving Size: 2 Scoops (55 g)
Servings Per Container: 36
Energy: 200 kcal / 854 kj

Fat: 2.7 g

of which Saturates: 0.7 g
- Linoleic Acid: 1 g

Carbohydrate: 17 g

Fibre: 3.4 g

Protein: 25 g

Salt: 0.8 g

Vitamins and Minerals:

Vitamin A: 240 µg RE
Vitamin D: 1.7 µg
Vitamin E: 4 mg TE
Vitamin C: 24 mg
Vitamin B1: 0.3 mg
Vitamin B2: 0.5 mg
Niacin: 5.4 mg NE
Vitamin B6: 0.5 mg
Folic Acid: 61 µg
Vitamin B12: 0.8 µg
Biotin: 15 µg
Pantothenic Acid: 1.9 mg
Potassium: 507 mg
Calcium: 333 mg
Phosphorus: 206 mg
Magnesium: 113 mg
Iron: 4.8 mg
Zinc: 3 mg
Copper: 0.3 mg
Manganese: 0.6 mg
Selenium: 17 µg
Chromium: 34 µg
Iodine: 45 µg

Tolerase (Lactase): 3.3 mg
Other Ingredients
Whey Protein Concentrate (46% (Milk), Maltodextrin, Soya Protein Isolate, Cocoa Powder (only in chocolate flavour), Hi-Maize Resistant Starch, Calcium Caseinate (Milk), Freeze Dried Coffee (only in caffe latte flavour), Fructose, Vegetable Oil (Sunflower)), Inulin, Milk Protein Isolate (92% Micellar Casein), Tri-Potassium Citrate, Micronised Milk Mineral Complex, Rice Starch, Colour (Red Beet Powder (only in strawberry flavour), Beta-Carotene (only in banana flavour)), Flavouring (excl. caffe lattte flavour), Stabilisers (Guar & Xanthan Gum), Magnesium Oxide, Sweetener (Sucralose), Ascorbic Acid, Ferrous Fumarate, D-Alpha-Tocopheryl Acetate, Zinc Citrate, Nicotinamide, Manganese Ascorbate, Tolerase L (pH-Stable Lactase), Copper Bisglycinate, D-Calcium Pantothenate, Retinyl Palmitate, Cyanocobalamin, Biotin, Cholecalcipherol, Pyridoxine HCl, Riboflavin, Thiamin HCl, Chromium Picolinate, Potassium Iodate, Pteroyl-L-Glutamate, Sodium Selenate
Add two rounded scoops to 200-300 ml of cold water (or skimmed milk).
Mix thoroughly in a blender or a shaker for about 30 seconds.
Have 1-2 servings as meal replacements daily.