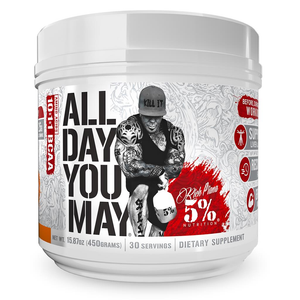 5% Nutrition All Day You May 450g
Regular price £29.99 Sale
5% Nutrition All Day You May
Rich Piana 5% All Day You May (30 Servings)
All Day You May was birthed from Rich Piana's philosophy that supplements should never take the place of your meals, but rather taken in addition to the food you eat.
Rich Piana 5% Nutrition All Day You May is one of the most dynamic products on the supplement market today, formulated to aid you muscle building efforts in numerous ways.
Serving Information
Container Size: 465 g Serving Size: 15.5 g Servings Per Container: 30
Amounts Per Serving Vitamin C: 200 mg Vitamin B6: 2 mg Vitamin B12: 125 mcg B CAA Blend: 6000 mgL-leucine, L-isoleucine, L-valine E
Essential Amino Acid Blend: 155 mg L-phenyalanine, L-threonine, L-histidine, L-methionine Conditionally Essential Amino Acid Blend: 2800 mgL-glutamine, L-carnitine L-tartrate, N-acetyl cystine Amino Acid Support Blend: 960 mg L-Taurine, Raw Coconut Water Concentrate, Alpha-Hydroxyisocaproic Acid, Bromelain, MicroDried Blueberry Fruit Powder Intra-Cellular Buffer Blend: 1500 mgCreatinol-O-Phosphate, Beta-Alanine Joint Support Blend: 600 mgD-Glucosamine Sulfate Potassium, Methylsulfonylmethane Other Ingredients Natrual Flavors, Citrc Acid, Glucose Polymers, Acesulfame Potassium, Sucralose, Silicon Dioxide, and Red #40
Recommended Use Mix a 1 scoop serving with 12-16 ounces of water and consume in between meals, right before a workout, during a workout, or after a workout.